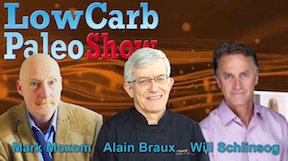 Hosts: Alain Braux and Mark Moxom interview Will Schlinsog
Dr. Will Schlinsog is a board certified Doctor of Chiropractic in Wisconsin and California. He completed his Pre-Chiropractic education at the University of Wisconsin and went on to attain his Doctor of Chiropractic degree from Logan College of Chiropractic now known as Logan University in Chesterfield, MO. He has been in practice for thirty-two years and currently maintains a private practice in Marshfield Wisconsin.
He has had additional training in disability evaluations, functional nutrition, applied kinesiology, and functional neurology. He serves as the CFO of Walkabout Health Products and as a consultant to all of Walkabout's emu oil users. Dr. Will conducts educational and informational podcasts regarding the clinical studies and trials performed primarily in his private practice.
Dr. Will is starting a campaign to get his patients connected to local Organic Farmers. To watch the video, please click the following link: https://www.youtube.com/watch?v=zdAxzGMEjYc&t=19s